Neck Joint/Ghost Mannequin Service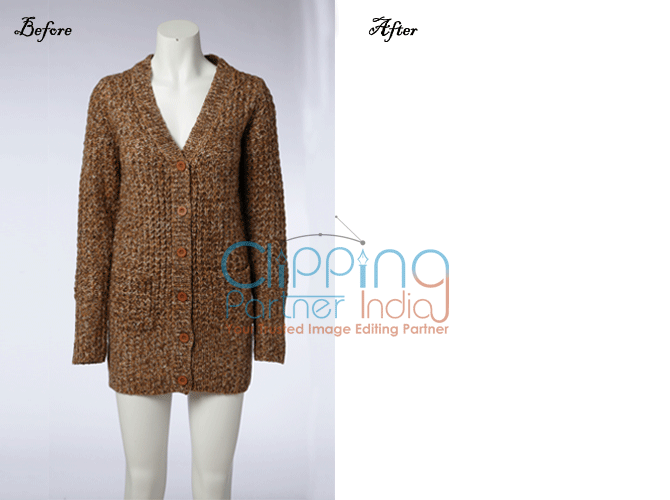 Get the Best Ghost Mannequin Service or Neck Joint Service at Clipping Partner India
The Ghost mannequin technique is applied to make it appear as if a "ghost model" was wearing the attire during a photo shooting session. The garment appears as if it is naturally filled, and the inside of it is visible as well. This effect is normally achieved by taking two separate images. One image is taken of the garment on the model while the other one is taken of the inside of the garment. The mannequin or model is then cut out of the first image and replaced by the second one. When adding in the second image, both the original shape and lighting are taken into account and a natural inner shadow is added, if necessary.
Ghost mannequin is mainly used for upper garments such as jackets, shirts, sweaters, vests, undershirts, etc. but they are also used for dresses, pants and skirts. A similar method can likewise be used to add collars and back pieces, sleeves and pant legs. Invisible mannequin is often used alongside other processes including cleaning, de-creasing, recoloring, and reshaping, among others.
Neck joint or ghost mannequin service is particularly done for products related to the garment industry. Neck joint service is a type of ghost mannequin service that is normally done on garments items. Usually, an image has two to three views of the ghost mannequin. These are shot as front view, back view and inner view (half view). The inner view of an image and output of the final image are used to create the neck part.
At Clipping Partner India we turn your product shots into a masterpiece. In trendy e-commerce brands, our Ghost Mannequin and Ghost Mannequin service makes a superb alternative for Flat Lay Photography.  We make dynamic, realistic as well as eye-popping representations of attires. This is important in highlighting of the garments' style, fit and feel when they go on sale online.
How we deliver our service
We are highly skilled to meet all your visual productions requirements. We offer affordable pricing and quick turnaround time. Our team of professionals has completed several multifaceted projects for Ghost Mannequin service and Neck Joint service. Our platform at Clipping Partner India supports technologies which allows for high levels of communication and control in order to eliminate performance risks. Our team uses this platform to work efficiently with business resources. Our process is what sets us apart from our rivals since it enables successful empowerment of business solution globally.
We have many years of experience in servicing numerous clients across different verticals, services and domain experts. Our expert team of web designers, together with our high-tech technology and expert software developers will handle any Neck Joint project superbly. We establish long-term relationships with our customers by sticking to deadlines, staying on budget and delivering measurable results. We have numerous satisfied customers, meaning we really know how to get you to the top of your niche. Thus, your search for a design and internet gurus should end here and we look forward to you becoming our next client.
If you need Neck joint service, you are welcome to contact us for a free trial.
Check Out Our- Image Cutout Service