Car photo editing is a new and controversial topic. However, it is an essential issue for all companies. If you are in the car distribution world, your brand will start to sound everywhere when you implement this service.
Cars look outstanding when you work with specialized photo editing services. Modeling was the most important thing in photography and for publicity purposes.
As time passes, photography has become so essential that it appears almost everywhere. Companies in this area are in increasing demand for photographs of this type. All or most companies join in this type of advertising, and this industry is no exception.
Pictures are worth a thousand words. By editing a photo, you can give it a meaning that speaks through its content. This must represent the essence of the company and what you will sell. Images help capture your target audience's attention, and when it comes to the auto industry, sales depend on image editing services.
The million-dollar question is, why wouldn't a company fix or show quality images and risk not increasing their sales? The quality of the photos will say everything about your website, and you will be able to satisfy your clients' needs and expectations. Keep reading to learn a little more about this service.
Car photo editing service means to make car images look professional to attract your potential customer's attention. Advertising is essential for all businesses; you need to advertise all your products in an eye-catching and innovative way.
However, the job is not just to edit some photos that contain cars. If you hire a car photo editing service, professionals will do it for you. Within this service, many categories can boost the marketing of your business.
In short, the typical car photos you take from the ones you have for sale are converted into high-definition, high-quality images for impact. With this service, you will capture all the desired attention from your customers.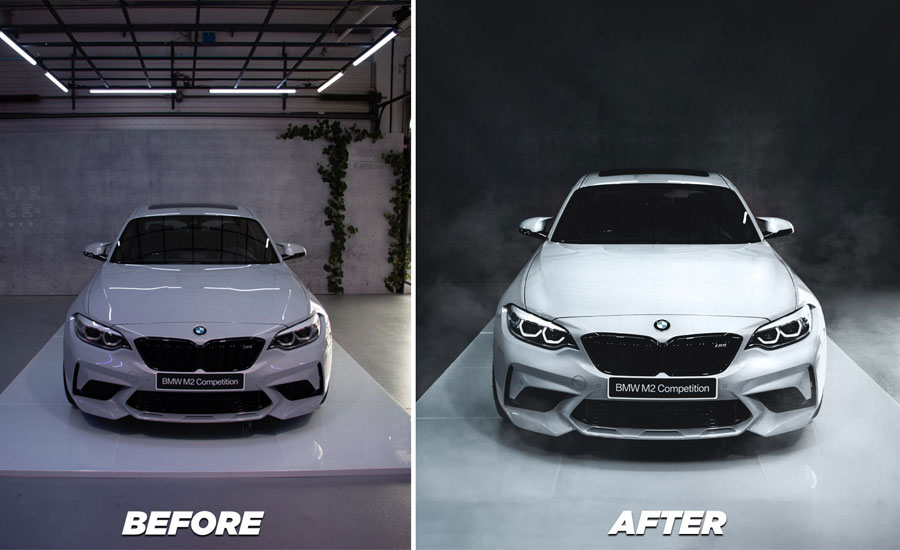 Retouched images are great for impacting audiences. When you get a clean, vivid, and even sharp picture, they convey a positive idea to potential customers.
The question is, who needs this kind of service? This service is a huge need for all car companies, whether medium, small, or large.
Photographers: this service can give your photos a different life, with a much more striking design.
Car brands: This type of service sells and gives great value to the brand. Quality is synonymous with a worthy product.
Business: They want to illustrate their services while creating a stable relationship with their clients.
One of the biggest problems car businesses have is that they present photos with inappropriate colors, leftovers, and even wrong backgrounds. All this generates that the images are not attractive, and therefore you will not create sales. Our company can help you boost your business in an incredible way.
An edited photo has extraordinary value and cannot be quantified in words. You get so many benefits from implementing this strategy that your sales will increase to where you never imagined it. By purchasing these types of services with us, your car's photos will become immensely more striking, attractive, and your business will be significantly boosted.
The best images are achieved through complex techniques and specially designed for this type of technique. However, many people tend to do touch-ups in Photoshop. When you buy car photos editing services, you will not have simple images with Photoshop. All your images will be retouched with the best quality. This service includes capturing the car and putting on different lights, removing and even adding elements to your photos.
There are several services related to car editing services. The results you get are incredibly amazing.
CAR COLOR CORRECTION
Cameras don't always capture the best or the true color of the car you are selling. You might have a vibrant or very dim file output. This may not affect the quality of your photo. Editing services can help you represent the real color with much more precision. The wrong or inconspicuous colors are often dull and do not generate sales.
EASILY ADD SURFACES TO THE CAR
Photos often have wrong shadows; this causes the image to look unnatural and not at all pleasant to the eye. The shade helps to look natural and very original. A fair amount of shadow could help you add great meaning to the image. Generally, the shadow works by setting the tone of a photo and also acts as an element of color contrast. You will have exciting images and paintings of car clipping path service.
CAR BACKGROUND ENHANCEMENT
This service is sensational. By improving the fund of the cars you want to sell, you will ultimately attract the automobile's attention. The funds are selected depending on certain specific characteristics of each vehicle. In this service, you can perform either a background replacement or delete the background.
We remove the background from which the photo was taken and change it to a white background. This background helps to attract attention, make your car look much more appropriate, and emphasize the subject.
RETOUCHING YOUR CAR IMAGE
The retouching helps to present the photo in a much better way. This type of service gives you the precision to generate many more sales. In this retouching process, the spots that the image could have anywhere are eliminated. Also, we can fix the sharpness and blur effects.
Your photos with our excellent editing service, could generate more incredible reactions on your profile, website, and increase your sales. All this can happen when hiring a car photo editing service.
GROWTH AND BOOST OF THE BUSINESS
Amazing photos often crowd your stores with potential customers, whether it's online or in shopping centers. The more striking your images are, the more you will see the growth of your business.
BRAND RECOGNITION
The attractive photos of your cars allow people to remember your brand much more straightforward. Also, people start to trust you. All of this will help to generate an influential brand.
EASY PROMOTION
Generally, the photo editing service is not expensive at all. Besides, since they are adaptable photos for all social networks, you can easily publish them in all you have and need.